Simburbia

A Minecraft map
Genre
Strategy, City Building, Action, Adventure
Created by
Jigarbov
Developed by
Rsmalec
Available for
Minecraft PC, Mac
Language(s)
English
Minecraft Version
1.8+
Downloads
Over 100,000 as of April 1, 2015
Simburbia is the center of this wiki. It is a Minecraft map released on August 26, 2014 by Jigarbov. It was worked on by Jigarbov and Rsmalec, the main creators, but there were others who helped, too, who you can see below. Development on Simburbia started in 2013, after the release of Infinity Dungeon.
About
Simburbia is a custom map for Minecraft, which uses over 60,000 command blocks. It is a city simulator system (SimCity in Minecraft) with plot relationships, power systems, overlays, money, population, abandonment and of course disasters. The Advisor will guide you through this game after the Tutorial Level, so make sure you pay attention, and read all text around, whether it appears at the top of the screen, in the middle or in the chat. It IS possible to fail so bad you can't continue, so be careful.
Developers
Trailer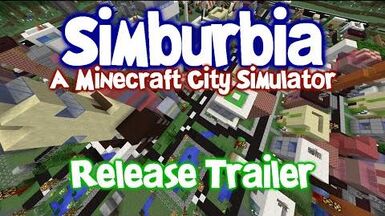 Gallery
See Also